Practicing Radical Dharma in the Time of Crisis
It is a difficult time for us. Violence, war, racism, poverty, hate, environmental concerns, and many other things has left many of us fatigued, fearful, and struggling not to blame judge or shutdown. Moreover, the struggle to relate to and make sense of the violence we experience each day has left many of us disembodied and traumatized. We are searching for solutions and want to actively work to be change makers in our communities but we are feeling shutdown and afraid.
Compassion lies at the heart of our effectiveness as change makers but how can we define compassion for ourselves? What are practices and strategies from Buddhadharma we can summon to aid us in facing the violence we see in ourselves and others? How can Dharma inform our spiritual warrior-ship? How can it inform our ally-ship? If you are overwhelmed by the challenge of living your practice boldly and out loud right now, then this retreat is for you.
Who's teaching?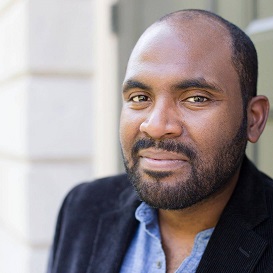 Lama Rod Owens is considered one of the emerging leaders of his generation of Buddhist teachers. An author, activist, and formally authorized Buddhist teacher in the Tibetan tradition of Buddhism, he is a co-author of Radical Dharma, Talking Race, Love, and Liberation and a graduate of Harvard Divinity School. Read more about Lama Rod Owens from his homepage.
Important information regarding the retreat
The weekend retreat is an opportunity to deepend and clarify one's meditation practice. All are welcome to join regardless of prior meditation experience.
The schedule will include guided meditations, a dharma talk, silent practice, walking meditation, and an opportunity for questions. The teachings are given in English.
Unfortunately it is not possible to stay at Eerikinkartano overnight, so it is necessary to find other accomodation.
For sitting meditation there are mats, cushions and chairs provided by Nirodha to all retreatants. If you need an extra cushion, a meditation bench, or a blanket, feel free to bring your own. Nirodha will offer hot tea and coffee, but please take a packed lunch with you. There is a micro wave oven at Eerikinkartano. You are also welcome to bring pen and paper to take notes.
Time: 10am to 6pm (doors open at 9.30am, we begin at 10am)
Dates: Saturday 17th and Sunday 18th March 2018
Venue: Eerikinkartano, Eerikinkartanontie 164, 02880 Kirkkonummi
Registration:  Please fill the registration form here and pay to confirm your registration (see below)
Queries: Sampo Koistinen, p. 0440513176
Price: The price for the weekend is €50. This is payable to the Nirodha bank account FI84 4108 0010 3769 97 with the reference number 301803171. This money is used to cover the teachers travel expenses, the rental cost of the venue and other practical costs. We aksi want to offer everyone the opportunity to participate regardless of their financial situation. If you feel that the basic price of the retreat is too much, please get in touch with us and let us know what you could pay. If on the other hand you are in a financially stable situation and would like to support those who have less, feel free to pay more than the basic price.
The teacher and the organisers are not paid by the organisation, they are giving their time freely so that as many as possible could participate in the teachings and practice . This principle of generosity has made it possible that we all can practice meditation 2500 years after the Buddha. The teachers are dependent on the generosity of the participants. We ask you to take some money on retreat as donations for the teacher.